About the Owner
Once a worldwide leader in the recorded music industry, Hanalei Surfboard House owner Simon Potts was originally born in Newcastle-upon-Tyne, England. His childhood intermingled his boarding school days in India and later years of education in four different regions of the UK, before going to Art school and studying graphics. After traveling the world and and various false-starts in career choice Simon's behind-the-counter gig at the local Virgin record store luckily skyrocketed into an exciting career in the music business.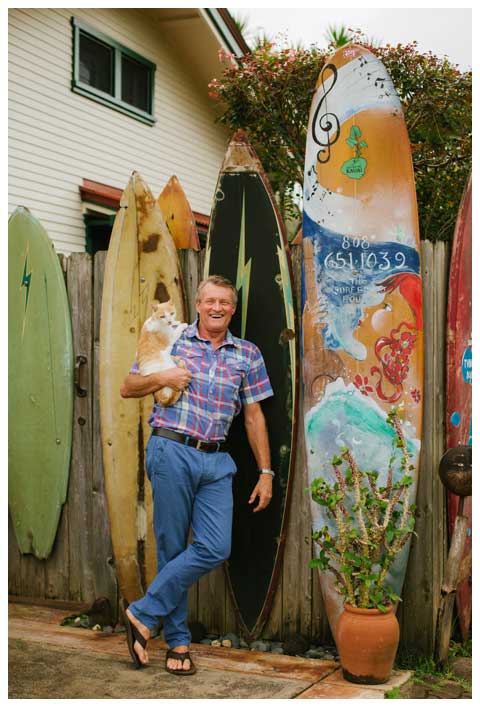 With a truly humble beginning, Simon began his professional career as a salesman for ABC Records and quickly advanced into becoming a promotion man, where taking the iconic BB King to Radio London after a sleepless night, was his introduction to the industry. On the side, Simon promoted the 2 iconic band's Joy Division and The Ruts before joining Arista Records as an official promotion man and eventually rising to become the Head of the Artist's and Repertoire (A+R) department. After signing The English Beat (who later evolved into General Public and Fine Young Cannibals), Simon signed The Stray Cats, Fela Kuti, The Thompson Twins, Fashion,Wang Chung, The Lotus Eaters, Care featuring Ian Broudie of the Lightning Seeds, Shriekback and Haircut 100 to the Arista label. Simon also worked closely with artists such as Aretha Franklin, Barry Manilow, Whitney Houston, Tom Browne, Patti Smith, Iggy Pop, Grateful Dead, Lou Reed, Simple Minds, Meatloaf, Kiki Dee, Dionne Warwick, Kenny G, Jermaine Jackson, Gill Scott Heron, Ray Parker Jr, and Japan.
Further making his mark in the industry, Simon became the Managing Director of Elektra Records England, signing Simply Red, The Cure, Yello, 10,000 Maniacs, and collaborated with artists on the label like The Cars, Linda Ronstadt, Joni Mitchell, The Eagles, and The Doors. His successes finally lead him to Hollywood, joining Capitol Records as the Head of Artist's and Repertoire Worldwide. Now an overseer, Simon worked closely with artists like Paul McCartney, Tina Turner, Duran Duran, Bob Seger, Heart, Joe Cocker, Dave Koz, MC Hammer, Steve Miller Band, Great White, Crowded House, Bonnie Raitt, Beastie Boys, Megadeth, Poison, Richard Marx, Johnny Clegg, W.A.S.P. and Eric Johnson. His regime signed artists such as Radiohead, Blind Melon, Mazzy Starr, Charles and Eddie, Keziah Jones,Us3, Hugh Harris, School of Fish, Peter Blakeley,Tom Cochrane, Cocteau Twins, The Kane Gang and The Butthole Surfers.
Throughout his career in the "mad, crazy and wildly fun world of the music business," Simon's refuge became the soothing paradise of Kauai. In his later years working in Hollywood, Simon acquired land on the island and began developing the property. As his professional career retired, his dream of living on a tropical isle became a reality.
After establishing several properties on Kauai, Simon designed and built the Hanalei Surfboard House that thrives today. The suites are crafted with recycled and salvaged materials, particularly longleaf pine, which grew across the southern states and was entirely logged by the 1920's. Mainly sourced from Austin, Texas, longleaf is considered a hardwood, containing natural oils that preserve it and are noxious to termites—both important components for building in the tropics. Simon's enthusiasm as an antique hunter and retro-connoisseur is also reflected in the many fine touches seen throughout the property, notably his use of salvaged fittings like door handles, light-fixtures, washbasins and shower-heads, unique tiling, furniture and more.
These days, Simon delights in meeting people from all walks of life who visit the Hanalei Surfboard House, still has a love for world travel and all the discoveries and education that go with that. He partakes in daily Pilates class, enjoys walks around Hanalei Bay, hiking the many beautiful beaches and trails of Kauai and sharing dinners with friends and colleagues.